Friday, February 16, 2018
Business Relationship Management Is A Practice Rather Than A Process
I find one of the biggest and most prevalent challenges to establishing a BRM capability is to look for a process in which to define your BRM activities. This is a mistake! Business Relationship Management is a practice across many processes rather than a single process in itself.
Business relationship management is a skilled role that is best positioned as a personal connector, facilitator, and leader between the business and the IT organization. Specifically, the BRM role defines its activities in your organization's many processes that span the IT Service lifecycle of development, delivery, improvement, and retirement/replacement. As a result, new BRM processes are not needed. Instead, your existing processes undergo an improvement initiative to define the opportunities where a personal and professional relationship can add value and make a difference.
When approached in this way, your BRM capability is transformed from being a collection of well-intentioned people performing inconsistent activities, to being a BRM practice office with a Professional Services Catalog of well-defined services and activities across IT Service lifecycle processes. Furthermore, the BRM Service Catalog approach removes the confusion for what the BRM does and provides the consistency in how the BRM delivers its specific services.
The BRM role has been practiced for over a decade and is still evolving. The practice has become better defined over time with BRM recognized as a formal element of the ITIL®v3 framework (2011 refresh), and with Business Relationship Management Institute (BRMI) starting a non-profit membership community in 2012 dedicated to the BRM profession and defining a specific BRM Body of Knowledge.




Graham Furnis,
Management Consultant at Pink Elephant
Monday, February 12, 2018
Not All Types Of Artificial Intelligence Are Created Equal
Are you intrigued by the concept of artificial intelligence? Are you aware of how it's impacting our lives, currently – and the implications for our future?
Many of us laud some of the current uses of AI: the robot that vacuums our floors, cars that park themselves and robots that defuse bombs. In the not-too-distant future, we expect to have cars that will drive themselves, robots that deliver pizza and security robots to possibly patrol our streets.
But artificial intelligence is still a relatively new frontier. Do we really understand exactly what AI is?
Join Pink Elephant's Executive Vice President George Spalding as he explores various types of artificial intelligence including the true artificial intelligence more correctly know as machine learning. George believes unsupervised machine learning will test humankind's capacity to trust machines – and points out a troubling truth about self-learning machines, in his SearchCIO article, Not all types of artificial intelligence are created equal.
Thursday, February 08, 2018
Prepare Now For An AI-Assisted ITSM Strategy
The Artificial Intelligence (AI) train is picking up speed and your organization needs to be ready to jump on board. Don't get left behind!
In the not-too-distant future, AI will be used to make our lives easier – both professionally and at home. Some industries are already embracing and anticipating the competitive advantages of AI, while other industries that don't keep pace could be at a distinct competitive disadvantage or even be in danger of becoming extinct.
Pink Elephant Management Consultant Jennifer Wels shares her knowledge about seven AI traits that can be applied to IT service management, including AI-assisted diagnostics, communication and voice and image ITSM in an article for SearchCIO. She explains it will take time to develop your AI-assisted IT service management strategy, but believes being proactive will enable IT divisions to retain their status as valuable business partners.
To learn more, read Jennifer's article: Prepare Now For An AI-assisted ITSM Strategy.
Tuesday, February 06, 2018
Webinar Highlights: Optimizing Service Delivery Through Cross-Functional Teams
In the final session of a three-part webinar series on Integrated Service Management, Troy presents new perspectives on the use of cross-functional teams to increase velocity in the value chain. Cross-functional teams help reduce errors and downtime, even in an environment with immature processes. This session details how changing from a silo-based to a collaborative culture, by modifying both teaming and leadership mindsets and structures, results in improved outcomes and productivity.
Missed the first two sessions? Check out our highlights:
• Part 1: Putting the Puzzle Together
• Part 2: Combining Frameworks To Enable Real Business Value
Interested in finding out more about our Integrated Service Management offerings? Check out our website!
Friday, February 02, 2018
Announcing The 2017 IT Excellence Awards Finalists!
This is one of our most happening times of the year – not only is Pink18 just around the corner, but so are the IT Excellence Award presentations! These awards are presented annually at our conference to recognize individual and corporate commitment to IT excellence and IT Service Management best practices.
The nominations are in, the votes have been tallied, and we have our finalists! So, without further ado, presenting the finalists for the 2017 IT Excellence Awards:
Project Of The Year:
• Integration of Best Practices in NOC and CARE, Total Play
• Project "Orchestra", Telus
• Service Management Enterprise Expansion, City of Ottawa
Practitioner Of The Year:
• Carol Christobek, Director, IT User Productivity & Service Delivery, Ashland
• Sean Goss, Manager, Technology Services Process Improvement, Cable ONE
• Johnny Rivera, Service Management Program Manager, Tacoma Power
Innovation Of The Year:
• IT Alerting, Everbridge
• Loom, Loom Systems
• Luma, ServiceAid
IT Leader Of The Year:
• Kris Dalmolin, Information Services Director, City of Eugene
• Serge Suponitskiy, Chief Technology Officer, Flight Centre Travel Group
• Penny Rowlands, ITSM Director Continuous Improvement, Kaiser Permanente IT
The Gold, Bronze and Silver award winners will be announced on February 20, during Pink18.
Congratulations to all the finalists on making the shortlist and good luck at the Awards!
Wednesday, January 31, 2018
Highlights: Integrated Service Management Webinar Part II
Integrated Service Management is a newly-created and innovative concept that can revitalize service management initiatives, enable process acceleration, increase efficiency, lower costs and deliver business value.
In Part II of a three-part Integrated Service Management webinar series, entitled Combining Frameworks To Enable Real Business Value, Troy DuMoulin, VP of Research & Development at Pink Elephant, discusses in more detail how Integrated Service Management works. He explores both Lean and Agile and how their best practices have been synergized to provide benefits to operational process design and improvements.
Troy also touches on the outcome of the 2017 Pink Think Tank, which concluded that there has been a significant rise in where organizations are focusing their IT framework and model attention – with an almost equal emphasis being paid to the three emergent concepts of Lean, Agile and DevOps.
Interested to find out more about the concepts that make up Integrated Service Management? Tune into our webinar!
Missed the first webinar? Check out Webinar Highlights: Integrated Service Management Webinar Part 1: Putting The Puzzle Together.
Friday, January 26, 2018
Webinar Highlights: Integrated Service Management Webinar Part 1: Putting The Puzzle Together
What is Integrated Service Management and how can your organization successfully practice it? Pink Elephant's Troy DuMoulin, VP of Research & Development, recently shared his expertise on this topic during Part I of a special three-part free webinar series on Integrated Service Management: Putting the Puzzle Together.

In the webinar, Troy related the 'story' of Integrated Service Management as a natural progression that has evolved from and incorporates various valuable frameworks and models being used in the IT industry today – ITIL®, Lean, Agile, DevOps & Organizational Change Management. Many organizations have invested in these over the years and the best practices of these accelerators are now being optimized, integrated and leveraged across the value chain to deliver a better customer experience and meet the ongoing challenge of digital transformation.
Using the analogy of a puzzle box, Troy explained that before optimization and integration can begin, it is imperative to define the vision. He compared this concept to the photo on the cover of the puzzle box that shows the complete picture with all the puzzle pieces (ITIL, Lean, Agile, DevOps, Organizational Change Management) interlocked.
Do your puzzle pieces click together to help your organization achieve its goal of digital transformation? Listen to the webinar to find out how to complete your puzzle – better, faster, cheaper.
Don't miss out on the rest of this webinar series!
Part 2: Combining Frameworks To Enable Real Business Value
Part 3: Optimizing Service Delivery Through Cross-Functional Teams
Tuesday, January 23, 2018
Troy DuMoulin – An HDI Top 25 Thought Leader…Again!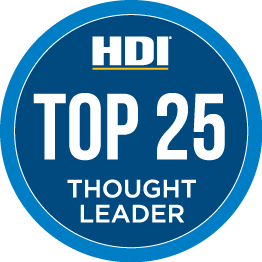 Congratulations to Troy DuMoulin for being selected as one of HDI's Top 25 Thought Leaders in Technical Support and Service Management for 2017! And this isn't the first time he has been recognized, having been honored last year as well.
What makes Troy one of the best? According to HDI, "The winners are people who lead by example. They are practitioners and consultants. They blog. They speak at conferences and events. They tweet and share their insights on social media. They mentor us in the finer points of leadership, process improvement, and technology implementation. They provide guidance for the industry to help us all improve service delivery and advance our careers."
Well done Troy on showing the world what we already know!
Monday, January 22, 2018
George Spalding Pens SearchCIO's Most Read Guidance Article For CIOs Of 2017!
You've done everything right – you demonstrated how your credentials, expertise and experience qualify you as CIO – and today is your first day on the job. You've prepared your game plan and you're all set to 'wow' everyone with your innovative strategies that will deliver more business value until…
This is the scenario that Pink Elephant EVP George Spalding paints in his article, The Strategic CIO's First Day: In Search Of Operational Excellence, which was the most read guidance article for CIOs published in 2017 by SearchCIO.
George's article follows a fictional CIO (or is it?) through their first day on the job. Poised to share how they will take the IT department to greater heights, the CIO is pre-empted by colleagues who disclose that the organization's basic IT services are deficient and operating far below par.
What should the CIO do?
Read here to find out!
Wednesday, January 17, 2018
Increase IT Service Management Efficiency: Integrate ITIL®, Lean, DevOps & Agile
We've all experienced it – the pressure to complete everyday tasks 'better, faster, cheaper'. To remain competitive in today's dynamic business environment, organizations – and, in particular, IT – are being challenged daily to innovate.
As organizations shift gears to accommodate the need for speed and agility demanded by the digital economy, there is a growing interest in models and methods that can accelerate business value generation. However, at the same time, there is growing confusion on how these different models such as Lean, Agile software development, and DevOps connect to one another, as well as relate to the principles and practices of IT Service Management.
To help resolve this dilemma, we brought together our world-renowned thought leaders and mined their respective and collective knowledge and expertise. The result? A unique approach that will allow organizations to gain the best value from the combined efforts of these methodologies: Integrated Service Management.
Matt Bowles, Director of Pink's Professional Services will be speaking more about this topic at EDIST 2018 (Electricity, Distribution, Information Systems & Technology) Conference & Exhibition. Join him as he further delves into this exciting new approach and why it's a must-have understanding for 2018.
Increase IT Service Management Efficiency: Integrate ITIL, Lean, DevOps, Agile
Thursday January 18, 2018 – 11.25am
EDIST 2018
Hilton Toronto/Markham Suites Conference Centre & Spa, Markham, ON
Thursday, December 04, 2014
Here is a sample itinerary I came up with for PINK15
With over 160 sessions to choose from, there's something for everyone at the Pink Elephant 2015 International ITSM Conference. If you're not sure which sessions to attend, Pink provide a number of sample itineraries. Some are customized to specific roles and focus areas, and some are chosen by individuals. Never short of an opinion, here are my choices.


It is always hard to decide with so many concurrent streams: an embarrassment of riches! And of course it is dependent on where you are on your ITSM journey right now, so I thought it would be useful to publish a rationale behind the choices. I hope you will find this an interesting discussion to help you in making your decisions.
The challenge with a content-rich conference like the Pink Elephant IT Service Management Conference is that there will always be conflicts: multiple options you really want to see which are on at the same time. One strategy is to bring several workmates and ensure you get coverage between you, then allocate a day when you get back for mutual sharing. For the rest of us, we just have to make the hard calls. (You can download the presentations and recordings of those you miss. We all have the best intentions of going over these later - you just might achieve it for the really important ones you missed!). Some will resonate with you because of the particular problems your organisation is wrestling with at the moment. If so, go. Bringing back tangible actionable value is one way to ensure you get to go to the conference again next year.
For the timeslots where a session doesn't fit your personal ITSM journey right now, these are my top choices in each time-slot, and what tough choices they were.


Sunday, February 15, 2015
4:00pm – 5:00pm: Conference Optimizers
Last year I picked Troy DuMoulin on cementing behavioural change, which is is what ITSM is all about. This year I'm picking Brian Newcomb discussing What IT Managers Need To Know About Lean Management, if you don't know what Lean is about. The Lean concepts are proving themselves over and over in improving IT. The Lean principles are important for the standardised "half" of your activities. Manufacturing-derived optimisation techniques work better for repeatable standardised transactions. The other side of IT is all the variable unpredictable stuff we deal with, where such techniques are less valuable. I explore this dichotomy more in Standard+Case. I presented a workshop on it at PINK14, and I wrote a book on it. I discussed it on Pink's Practitioner Radio episode 44.
Monday, February 16, 2015
7:15am – 8:15am: Breakfast Clubs

ITIL will dominate the ITSM landscape for some time to come, but COBIT is more important and more valuable. It is my primary reference framework, as I explained in my Showdown Of The Methodologies at PINK12. Everyone in IT needs to be familiar with COBIT. I've been picking it as a sleeper about to take off… but I've been picking it for years now. I still think it is going to be big. So go to Jennifer Wels' session What IT Managers Need To Know About COBIT if you aren't familiar with COBIT.
...unless you are about to change to a new ITSM tool, in which case please go hear David Mainville's wise words in Seven Steps To A Successful ITSM Tool Implementation. As an ex-vendor I can vouch for the fact that the tools mostly work and the vast majority of failures are due to the implementation (with plenty of blame to go around both customers and suppliers)
8:30am – 10:10am:
Don't miss the keynotes. I've missed a few over the years and always regretted it.
10:30am – 11:30am:
Now it gets even harder, with so many "coal face" sessions from real practitioners to choose from.
Two Kiwi's in the first session! Rebecca Wilson is a dazzling speaker and Inland Revenue are doing some interesting stuff (a client of mine). But I'd have to go for Alison Holt talking about Governance – Las Vegas Style: IT governance is one of the biggest challenges facing IT now and into the future. That's why we made it the topic of our second Pink Think Tank at PINK15. It makes up Track 9 of the Schedule.
11:30am – 3:35pm: Exhibition Showcase Open
Come and see me in the Exhibit Hall. I have a sofa – a treat after hours walking and standing on those concrete floors.
11:30am – 2:00pm: Lunch/Concurrent Breakout Sessions
You can eat when you get home. If you are American, you probably eat too much anyway (said the guy carrying 15 extra kilos). Go to the sessions.
11:45am – 12:45pm:
Arrggh I really can't pick from all four sessions. You can't seriously consider having lunch.
Id go for Debbie Lew, because IT Governance is the most important thing right now: COBIT 5 – Can It Really Help Accelerate Your IT Governance?
...or any of the others.
1:00pm – 2:00pm:
Hopefully we will come up with something really interesting when some of the best minds in ITSM (and me) get together in that Pink Think Tank before the conference. We have set ourselves the objective of delivering actionable advice on dealing with IT Governance. We'll be presenting the results in the Pink Think Tank Summary session.
But I have to recommend you go to Kathy Jo Miller Taylor, on Enterprise Change Management In An Agile, Fast Moving World. I was at the DevOps Enterprise conference in San Francisco in August and I can tell you that this stuff is the future and Nordstrom are surfing the wave.
This is really important, so grab a bite of lunch some other time.
2:15pm – 3:15pm:
I watched David Ratcliffe developing The 5 Most Valuable Leadership Characteristics For IT Leaders and I really want to go. And I've always wanted to hear Ken Gonzalez, who's a great writer. If you fancy yourself as an "ITSM philosopher", consider the deeply thoughtful Malcolm Ryder. Elaine Lauritzen won Pink's ITIL Practitioner of the Year a few years ago. But in another tough call, its Dr George Westerman's The Real Business Of IT: How CIOs Create & Communicate Value.


Tuesday, February 17, 2015
7:15am – 8:15am: Breakfast Clubs
If you have any interest in IT leadership, go to IT Leadership Roundtable Discussions – How To Successfully Lead Change. Or Kurt Weisler is always energising - just the thing to start the day.
8:30am – 10:00am:
Keep going to the keynotes!
10:30am – 11:30am:
Dana Swanstrom's UnITy team won Pink's Project of the Year award last year. I saw Dean Meyer at PinkForum (a must-attend event for anyone in IT leadership or aspiring to it) speaking on ITIL Financials: Component Processes & Tools, & How They Fit Together and I learned some great concepts.
If you are a manager then it has to be Managing Oneself with David Ratcliffe.
I'll have already spent all Saturday at the Think Tank debating IT Governance – Myths Vs. Reality with Troy DuMoulin, but you should really go to this one (did I mention IT Governance is the most important thing right now?).
11:45am – 12:45pm:
Of course you will go to Pink Think Tank Power Session if you have questions about the findings from the Think Tank, but I'd be going to Why Outsourced Service Desks Fail: The Scorecard Is Green But The Service Is Awful! just because so many of my clients have that problem.
1:00pm – 2:00pm:
Get along to Greasing The Organizational Skids Through Governance & Management unless like me you are a philosopher of ITSM: I'll be at Christian Nissen's Taking Service Forward – The Adaptive Service Model, an important development in ITSM thinking.
2:15pm – 3:15pm:
Cindy Trudeau's Are Your CSI Initiatives In Sync With Your Business Strategic Initiatives? is right in my interest zone. Building Manufacturing Methods Into ITSM is another pointer to the future. I will be presenting Supplier Engagement Models: A Better, Faster & Stronger Connection which is a cool new idea of mine, but if I were you I'd go to Redefining Operational Excellence: New Strategies For Maximizing Performance & Profits Across The Organization.


Wednesday, February 18, 2015
7:15am – 8:15am: Breakfast Clubs
If you aren't familiar with Leading Change: Kotter's 8-Step Model then everyone should have that in their kitbag. Else go to How To Use Business Simulations To Create REAL Customer-Focused Behavior with Paul Wilkinson - simulations are a really useful tool.
10:30am – 11:30am:
I'll be presenting What IT Governance Isn't but if you went to earlier Governance sessions I'm thinking most of you will know this, so go to Jack Probst's The CIO As Service Broker, Crippled Without Supplier Management. Supplier management and the complex value stream was the topic of last year's Think Tank which tells you we thought it was a very important issue.
1:00pm – 3:45pm: Half–Day Workshops
Personally I'd go to The ITSM Leadership MasterClass from David Ratcliffe, who ought to know. Unless you have yet to be sold on COBIT in which case come to my Why COBIT Is "Must-Have" Knowledge For IT Leaders



Remember: go to what resonates with your own reality right now. And have fun! See you there.
Tuesday, September 02, 2014
Reflections on PinkForum14
Pink Elephant's Third Annual IT Service Management Leadership Forum ("PinkForum14") took place recently in Scottsdale, Arizona. I was there for my first time. This is not a review of the conference, it is a personal reflection on what I saw there.
When I'm helping with a conference I don't actually get to that many of the sessions. I'm often preparing a session, planning with Pinkers, or - best of all - talking to conference attendees. But I get a clear read of the vibe, of the attendee reaction. And in the case of the PinkForum, Pink Elephant are clearly onto something. It rocked.
The theme is leadership. This is not a CIO event: many of the attendees are CIOs, but a significant proportion are leaders in other roles, at all levels in the organisation. Some are there because they lead and some because they are building their leadership skills. For years now, David Ratcliffe, Pink President, has been calling out the importance of leadership to IT transformation. But there were few (no?) opportunities for studying and building that capability… until PinkForum.
PinkForum follows a similar pattern to Pink's annual ITSM conference in Las Vegas every February, in that there are inspirational keynotes interspersed with multiple concurrent streams of sessions from practitioners and Pinkers, but there the similarity ends. The atmosphere is lot more intimate and laid back than the buzz of Vegas. It's about an eighth the size, and held in a more secluded venue where folks stay around, so everyone gets to know each other more readily. It's collegial: it feels like a small exclusive college campus. With better food: the conference food was so good I stopped the chef when he was crossing one of the many courtyards of the venue, and complemented him.

As I said, I don't get to enough sessions at conferences. But I want to call out two presenters:
Stephen Wrenn, Global VP, Application Services, Johnson & Johnson. I reckon Steve Wrenn is the Jack Welch of IT: sharp, energetic, insightful, tough, pragmatic, wise. He hit us with an hour of down-to-earth common sense about the business of delivering quality applications. Steve isn't messing about: J&J have an IT budget of $6billion! Steve focused on quality: he's a SixSigma blackbelt if i recall correctly. My favourite quotes
"If you don't have time to do it right, where are you going to find time to do it over? "
but… "Don't be perfectionist: Microsoft have trained people to be used to a few defects"
I tweeted that when Steve Wrenn reads The Phoenix Project, he's going to think "heck we do most of this at J&J already". The Phoenix Project? It's a must-read book about new directions in IT. I reviewed it here (and provided an antidote to the Koolaid in the book). After you read that, you might like to also read Charles Araujo's Quantum Age of IT - after those two books you'll be well equipped for IT's future.
Malcolm Ryder, Principal, Archestra Research. Malcolm's session was the opposite of Steve's: laid-back, contemplative, cerebral, abstract. Malcolm took us through an excellent model of IT innovation. I especially found the description of the relationship between CIO and CTO helpful. For we philosophers of IT (Troy DuMoulin was there too) it was a real treat.
The other group who enjoyed the conference was the vendors. Because of the small numbers of attendees and vendors, we intermingle: the vendor stands are right there, in the midst of things. There was lots of interaction, to the benefit of all parties.
Then there's the venue. When I first saw the faux-Spanish-mission architecture, I thought "oh dear". The lines between reality and illusion blur in the USA: sometimes it feels like one big theme park. But the Montelucia Spa is just done so well that it works. And it is really pleasant, with three pools, multiple bars and eateries, big cool suites, low rise buildings, lots of fountains and shady courtyards, and a great view of Camelback Mountain.

And of course the Pinkers are a great bunch of people

So all in all it was an excellent conference. I'm fervently hoping I get the chance to go again. If you are keen to attend, here's an inside tip: the word is that Pink want to keep the event small, so rather than grow it they may run more events in other locations. Where do you think there is a demand for an ITSM Leadership Forum?
Finally, have you spotted PinkNORTH14? Pink Elephant are running a northern "regional" version of the ITSM conference for those who can't or don't want to get to Las Vegas. This is another excellent idea. I wonder if it will grow to the same size? Perhaps we'll see Pink16North and Pink16South?
Monday, June 09, 2014
PinkNORTH14 Website Is Up!
We may be half a year away from our inaugural IT Service Management Conference & Exhibition – North Regional, but we like to get things started early.

Thus allow us to present…the PinkNORTH14 website!

On the website you can already find details on the program, the venue (the Metro Toronto Convention Centre), confirmed speaker sessions, early bird offers and team discounts.

Keep checking back to this page to see updates, as new speakers and sessions are added constantly, and for information on pre- and post- conference courses!
Friday, May 23, 2014
We The North
It's been a thrilling couple of weeks for us in Toronto, with the incredible accomplishments of our home basketball team, the Toronto Raptors, and baseball team, the Toronto Blue Jays.

Joining in while Toronto was chanting, "We The North" (the new mantra of the Raptors), Pink has been drumming up some Toronto excitement of its own this year:

Breakfast With Pink – Monthly, starting in May

A new FREE monthly series where you have a chance to hear directly from Pink's world-leading ITSM experts on a variety of topics. Upcoming sessions are:

3 Tips For Making IT A Strong Strategic Business Partner, with Troy DuMoulin, VP Research & Product Development, Pink Elephant – May 29

IT Asset Management Vs. ITIL® Configuration Management, with George Spalding, Executive VP, Pink Elephant – June 25

The Business Of IT – September

Another brand new initiative is coming to Toronto on September 18. This very unique one day event will have attendees learn how to meet today's challenges head on. Until June 20th you can take advantage of our great Early Bird Offers.

IT Asset Management (ITAM) Certification – December

Pink recently introduced a brand new certification to its education line-up, and one of the first places we're holding classes for it is – you guessed it – Toronto!

IT Asset Management Foundation Course – December 10-11 (Live, Instructor-led online courses: August 26-27 & November 17-18)

Certified Software Asset Management Course – December 10-11 (Live, Instructor-led online courses: August 28-29 & November 19-20)

IT Service Management Conference & Exhibition – North Regional, "PinkNORTH14" – December
We're bringing our annual event – the largest ITSM conference in the world – to Toronto! Keep your eyes peeled for more information on this event, happening December 8-9.

Education
Last, and certainly not the least, our Schedule-At-A-Glance is always updated with our latest course offerings in Toronto.


Posted by Mehreen Hasan on 05/23/14 at 02:03 PM

Permalink
Thursday, May 22, 2014
Welcoming A New Certification To The Family
Pink already has the most extensive selection of ITSM solutions provided by a single vendor, but we thought, why stop there?


We're very excited to announce that not only have we added new courses to our roster, but in fact, have added an entirely new certification as well!


Introducing (drumroll please) the IT Asset Management (ITAM) Certification.


Why ITAM? It's no surprise that business technology has progressed at incredible rates, but with this incredible growth comes a need for ITAM, and understanding the benefits it brings to a business.


We're kicking off the new certification with two new courses developed by the International Association of Information Technology Asset Managers (IAITAM):

IT Asset Management Foundation Course (developed especially for Pink Elephant by IAITAM!)

Certified Software Asset Manager Course
IAITAM's expertise and knowhow + Pink Elephant's highly certified instructors = the best of the best for you!


For the official announcement click here.

Posted by Mehreen Hasan on 05/22/14 at 04:38 PM
Permalink