Rob England
Tuesday, January 17, 2012
Some advance tips on what we will see at Pink12
| | |
| --- | --- |
| To do is to be. | Socrates |
| To be is to do. | Jean-Paul Sartre, Plato |
| To be or not to be. | William Shakespeare's Hamlet |
| Do be a Do Bee, don't be a Don't Bee. | Miss Connie from Romper Room |
| Scooby Dooby Doo. | Scooby Doo |
| Yabba Dabba Doo. | Fred Flintstone |
| Inka Dinka Doo. | Jimmy Durante |
| Boop Boop be Doop | Betty Boop |
| De do do do, de da da da. | The Police |
| Doo Wah Diddy. | Manfred Mann |
...and of course Do-be-do-be-do from Frank Sinatra.
Collected by Tex Texin

What has this to do with this year's ITSM Conference? Everything.
Twitter is a-flutter with hints, or should I say Twitter is crooning with hints of what is to come at this year's ITSM Conference.
Every year the Conference has had a theme, and in recent years the theme has been related to some musical concept - either an artist or famous album. The last two years we had the Beach Boys and then Jimmy Buffett's "Changes In Latitudes; Changes in Attitudes". Before that it was Pink Floyd's "Another Brick In The Wall", and the Beatles' Sergeant Pepper... but this time there isn't a prominent musical theme. That's so last year! Instead while we'll certainly have musical threads running throughout the Conference no one artist will dominate, except perhaps when it comes to Pinky!
Regular Conference attendees will be familiar with the annual Special Edition Pinky - the little stress elephant that all attendees receive. There are many dedicated collectors of this much anticipated souvenir (I have two as well as two sizes of the regular Pinky). Well, this year sees the introduction of - Crooner Pinky!
Do-be-do-be-do indeed.
The curious coincidence is that the New Zealand itSMF national conference for 2012 has the theme of "I did ITsm my way". I blame the Mayans.
Other hints on Twitter of what we might see?
Pattie Langtree tells us the Bellagio fountains have learned new dances. (And "Bellagio's Tower $70M room remodel, 2,568 newly redesigned Rooms is complete!")
David Ratcliffe, the Pink Pres, tweeted "Just been brainstorming with @GSpalding11 [George Spalding of Pink] the possibility of a world record attempt at #PINK12 - curious? See you there!"
And Rhett Glauser of ServiceNow tweeted "According to @pinkerdavid, #pink12 will be a more open community of vendors, practitioners & even competing consultants." Now what could that look like? Be there.
Tuesday, January 03, 2012
Multitasking
It is amazing how low my personal productivity while at my desk has fallen of late. A New Year's resolution of mine is to get back to the "Seven Habits", in particular making time for the big tasks, and in particular in particular cutting off those nasty diversions of email, twitter, google+ and blog-comments from my daily work time (oh! and telephone, though nowadays it seldom rings), so that I can concentrate on one task at a time.
In a couple of panel discussions in recent years I have been howled down as a Luddite for suggesting the younger generations should be restrained from networking while working. I got to a final warning with one employee before he realised I was serious that he was not to chat with his girlfriend while manning the service desk phones. When I tell that story, I'm berated as an old curmudgeon who fails to understand my youngers and - apparently - betters, who are wizards of multitasking.

Image © Canstockphoto.com


Rubbish. And hopefully Dr. Joanne Cantor is going to tell us so in her conference session on Conquer Cyber-Overload.
Dr Cantor's view is not a fringe view. It is the consensus of science and business.
Go back to Drucker in 1967, with The Effective Executive, which warned against fragmentation, and promoted "a fairly large quantum of [uninterrupted] time" for most tasks.
From there, read any or all of the following:
...and so on.
When you are done there, you might like my guide to multitasking at the conference for some light relief.
And don't take any baloney from these young brats: teach them to concentrate… or else.
Friday, December 30, 2011
New Year's Resolutions
As we have done in past years on this blog, I thought I'd make some resolutions for ITSM in 2012.
In 2012 I will…
1) Formalise cultural change programmes and insist they get top priority. Too often it gets lip service "Yeah, yeah, we'll have a cultural change thingey". With one client of mine, we've done every bit of planned work except the CC programme, which languishes on the drawing board, while staff cope with ad-hoc announcements and occasional newsletters. With another client, the programme is up and running, but it has been hijacked to do other (important) stuff.
2) Stop trying to do everything as formal projects. It bogs you down. Forgive a shameless plug here: my new Tipu approach (which I will be presenting at the conference) talks about managing service improvement activities as part of business-as-usual. I'm a critic of agile methods for software development - I think they are too high risk for many applications - but human processes are much more forgiving and agile concepts can be validly used for process improvement. We can accept less-than-perfect results and continual improvement rather than a big-bang project, in return for actually getting something - anything - better than where we are now.
3) Be nice to suppliers. I've had a couple of experiences to remind me that third-party suppliers are essential stakeholders in the value chain, who you leave out, neglect, or include late, at your peril. They need to come along on any ITSM improvement journey.
4) Get across COBIT 5. This new version of COBIT is an important development in IT management, including ITSM. Possibly a game-changer. I already always use COBIT 4.1 as my primary frame of reference, and turn to ITIL only to flesh out the bones of that framework. I'm looking forward to better understanding COBIT 5 and integrating it into my daily work.
What resolutions will you make?
Monday, December 26, 2011
If Pink Elephant plan two years ahead, maybe you should too
Many readers may not realise that Pink are already well advanced in planning PINK13, the 2013 ITSM Conference. In fact I happen to know they started planning before or during PINK11.
David Ratcliffe, the Pink Pres, tweeted recently

to which I replied that if Pink Elephant plan so far ahead, perhaps we conference attendees should too. What are you doing in February 2013?
Friday, December 23, 2011
Christmas isn't about perfect, it's about good.
We in IT, we criticise ourselves and our industry a lot. We're perfectionists. That's a good thing when dealing with software and data, which has to be near perfect or it simply doesn't work. But perfectionism isn't so helpful when dealing with people and culture and organisation and process. We must let it go, and accept that good enough is near enough. People aren't perfect, nor is anything to do with us. Never has been, never will be.
All those too-perfect pictures of Christmas-time: guess what? They're airbrushed. It isn't like that.
But it's alright on the night, thanks to pizza and Coke and overtime.

© Can Stock Photo

So at this Christmas time, let's celebrate what's good in IT.

We run the planet.
I saw the factoid that without IT, one-fifth of the human race would have to be telephone operators. The rest would be writing in ledgers.

We make the planet better.
Much of the productivity growth in the last few decades in the developed world has been attributed to IT. (I assume the rest comes from outsourcing to the developing world).
This is the first time in the history of the species that everyone has access to everything known, near enough.
Not only that, but more and more of us carry that access in our pocket.
We in IT restore the connectivity of people that was lost with urbanisation. Everyone can find a community again (for good or ill).

We are the future of the planet.
Don't ask me how - I can't see more than three years ahead these days. But with Moore's Law showing only barest hints of reducing its rate of growth (let alone leveling out) and most of the human race still not on Facebook, I don't see the IT revolution slowing down. I can't guess what my son will see - I only know IT puts it beyond guessing.

We are amazing.
What we in IT do is good. It doesn't have to be perfect. Celebrate. Merry Christmas!
Tuesday, December 13, 2011
Apps4Vegas: Groupon
Here is another of our posts on "Apps4Vegas": useful smart-phone apps to take to Las Vegas to the IT Service Management Conference (the last one was about TripIt).
Las Vegas exists for the sole purpose of facilitating you spending your money, so what better app than Groupon. Groupon features a daily deal on the best stuff to do, see, eat, and buy in 45 countries. Get the app here http://www.groupon.com/mobile
Once you get to the town, select "Las Vegas" as your city in Groupon. Each day up to five deals with offers up to 80% off get pushed directly to you. And of course, you may welcome opportunities to do some spending at home before you come…
Wednesday, November 23, 2011
Giving thanks for our ITSM blessings
At a time when most North Americans are kicking back and giving thanks for the good things in their lives, we should also be thankful for the blessings we enjoy in ITSM, such as
All those who labour to create the IT bodies of knowledge that we use, the giant shoulders we stand on (frameworks like COBIT, guidance like ITIL, standards like ISO20000)
The specialists who make all that comprehensible and useful, such as my friends at Pink Elephant
The internet, which puts most of mankind's knowledge on an instantly accessible buffet, and connects us all so we can have this conversation
Those noble, far-seeing philanthropists who gave us Las Vegas for the annual ITSM Conference
Caffeine
Most of all I'm thankful that you and I still live in a world peaceful and wealthy enough to be able to get together in the Bellagio every year. I'll be grateful to see you there in February.
Wednesday, November 16, 2011
State Compensation Insurance Fund: co-winners of the 2010 ITIL Project of the Year Award
At this year's conference, there was a tie for the ITIL Project of the Year Award, the first time this has ever happened. A little while ago we spoke to Brian Newcomb at Ohio State University, one of the winners. The co-winner was California's State Compensation Insurance Fund, better known as State Fund. So today we hear from Joel Krause, Manager, Office of the CIO - IT Service Management, at State Fund. I loved Joel's email signature. It is a quote:
"Following ITIL practices on a daily basis will facilitate the delivery of high quality IT services;
I know I can count on your support."
Shaun Coyne, State Fund CIO
Smart. If you are tasked with improving ITSM and you have the executive support, make sure folk know it.


Anyway, with much help and patience from Joel we got through the technology and recorded the following interview:



Don't be shy folks! Think about nominating yourself or an organisation you know for a Pink Elephant ITIL Award.


Joel will be at the upcoming ITSM Conference presenting on "Implementing A Single Point Of Contact Service Desk", so make sure you catch that session to fund out more about what they did!
Tuesday, November 08, 2011
The Internet Generation
You will find a number of posts on this blog around the theme of attention spans, concentration, multitasking and the internet's damage to thinking. Perhaps XKCD's take on this might make me feel better about the issue.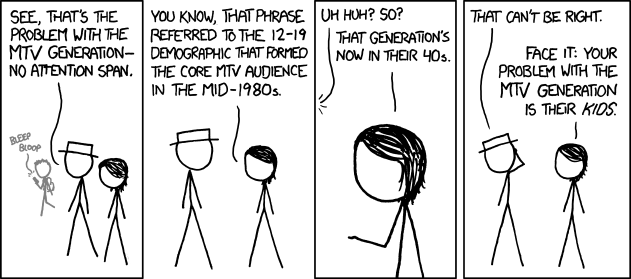 Nope.
Monday, October 31, 2011
Sacred downtime spaces
Continuing our unofficial theme for the conference of technology's influence on our minds, here is a bittersweet post "What Happened To Downtime? The Extinction Of Deep Thinking And Sacred Space", which says
Interruption-free space is sacred. Yet, in the digital era we live in, we are losing hold of the few sacred spaces that remain untouched by email, the Internet, people, and other forms of distraction…
There has been much discussion about the value of the "creative pause"—a state described as "the shift from being fully engaged in a creative activity to being passively engaged, or the shift to being disengaged altogether." This phenomenon is the seed of the break-through "a-ha!" moments that people so frequently report having in the shower. In these moments, you are completely isolated, and your mind is able to wander and churn big questions without interruption.
However, despite the incredible power and potential of sacred spaces, they are quickly becoming extinct. We are depriving ourselves of every opportunity for disconnection. And our imaginations suffer the consequences.
One of the most vivid memories of my life is sitting beside a billabong in the Grampian Mountains (in Australia, not the original Grampians in the UK), all alone.
A rich source of similar memories is our family hut in the Southern Alps, where I go every year. I'll be there in a month and I can't wait: no mobile phone coverage, no telephone at all… heck no electricity.

I (try to) prohibit any electronic devices except using a decades-old transistor radio to get the weather forecast occasionally. My son loves the place as much as I do and my parents did before me. It is indeed sacred to us.
Find and treasure your own sacred downtime spaces.

Tuesday, October 25, 2011
Here's the inside scoop: the layout of the Exhibit Hall
Hot news readers! Here is the layout of the Exhibit Hall for Pink Elephant's upcoming 16th Annual IT Service Management Conference.
Why does this matter? Clearly you haven't read EHOBOK, the Exhibit Hall Body of Knowledge. If you want to make the most of your experience of this fabulous facility at the conference, you had better read EHOBOK now! Get the latest version with the 2012 floorplan here (pdf).
Friday, October 21, 2011
Apps4Vegas: TripIt
Continuing our series of posts on useful smart-phone apps to take to Las Vegas to the IT Service Management Conference (the last one was about Facebook), let's look at TripIt, an app available for both iPhones and Droids (and Blackberry and WinPhone, for those amongst you still holding out).
Like a number of the examples we have discussed, TripIt is of course also a standard Web site as well as a mobile app. And it is also available for the iPad, for the sanctimonious types who would rather appear trendy and innovative by owning a tablet than do their computing on a user-friendly platform with dual monitors, proper keyboard, ergonomic trackball and the ability to freely choose their own hardware extensions - such as TV tuners - from an open market. Hey, knock yourselves out. Me I'm buying a new PC.
I digress.
There is so much to keep track of when traveling. Take the hassle out of confirmation numbers, directions and flight info. Download TripIt and let it automagically manage your travel! As a bonus, TripIt integrates directly with LinkedIn so you can let your colleagues and friends know exactly when you touch down! And let your competitors know when you are away from your client-base…
We are not partisan about this. There are alternatives to TripIt, such as Expedia, who seem to be behind the curve - they currently only offer hotel bookings on smartphone apps (iPhones and Droids). Or Orbitz, who are more up with the play with flights, hotels and cars available for iPhones and Droids. We just like TripIt best.
Tuesday, October 11, 2011
Ohio State University: co-winners of the 2010 ITIL Project of the Year Award
At this year's conference, there was a tie for the ITIL Project of the Year Award, the first time this has ever happened. We will be speaking to both winners: I chose the first interview through a randomising process which came down to the first interview where I overcame the technical difficulties. So today we meet Brian Newcomb, Associate Director of IT Service Management for Ohio State University. Once I stopped breaking the video technology, I spoke to Brian about OSU's prize-winning ITIL project. We talked about some interesting Kotter-inspired cultural change activities they used, and some valuable lessons learned, especially around membership of the project:




Don't be shy folks! Think about nominating yourself or an organisation you know for a Pink Elephant ITIL Award.


And come along to Brian's session at the upcoming conference, on "2010 Project Of The Year Winner…One Year Later", to see how things have panned out for them.
Monday, October 10, 2011
The optimum human rate of process change is like the optimum rate of exercising
The University of Texas Health Science Center are on a brave journey: an extreme makeover of their ITSM, driven by Pink Elephant and a group of other providers. They have achieved an extraordinary amount: in the first three months of the Makeover
the folks at UTHSC have had 2 assessments, developed a roadmap, installed the Hornbill Supportworks tool, initiated process design on 3 processes (Incident, Service Request and Service Level Management), kicked off their communication strategy and, as part of the education strategy, took and passed Foundations or OSA courses and began conducting a series of Apollo 13 simulations.
That's impressive. Nobody at UTHSC is complaining, but I'm guessing this is about as fast as anyone wants to go. I bet it is a bit of a whirlwind at times.
IMS did all this while still "keeping the lights on". And therein lies the rub…they have done a lot which has stretched everyone very thin. So this week the core team met to take stock of where they are and where do they want to be at the end of this first phase

UTHSC have renewed their commitment to the programme, but one can hear a collective catching of the breath there.
We can change technology in days or weeks… minutes even. It is changing the processes that takes time. And even more so it is changing the people that lags: change of culture, of behaviours, of beliefs and attitudes doesn't happen in weeks or months. Human culture is a big ship to turn, with massive inertia - even in a small group.
So how fast is fast human change?
Effective change takes people out of their comfort zone. The question is how far out can you take them before the initiative fails, before they break or rebel or withdraw?
I am taking a client organisation through a comprehensive IT CSI programme right now. The CIO said (to his team) that he thought we had the pace about right because he was beginning to feel uncomfortable about it. Nobody is questioning the wisdom of the programme (not out loud anyway), but there have been a few issues of stretched resources and one newbie to the programme asked "When does this ever end?" (The answer is never. We want to inculcate CSI as a habit, as a business-as-usual practice, as something that all professionals do all the time to improve).
"Uncomfortable" feels about right. UTHSC seem to be in the same zone as my client: a little breathless, a little stretched, but not actually hurting. Those of you who exercise will see the analogy: there is a difference between the ache of a straining body and the pain of a body sustaining permanent damage. (Before we have any wisecracking comments, I used to exercise once. I remember).
Just as with exercise, we need to monitor the changing corporate "body" closely for signs that we have gone beyond developing fitness and into doing damage. I think we can all tell the difference between "aches" and "pains".
Perhaps we should also extend the analogy to say that we need to watch out for exhaustion: nothing is broken but we have simply run out of huff and need a break.
Thursday, September 29, 2011
Apps4Vegas: Facebook
We have a growing list of suggestions for you for apps to install on your Droid or iPhone to equip yourself for the Las Vegas confernce next year. So far the "apps4Vegas" we have are PinkAPP, Twitter, Color, and Skype. Here's another one, or more precisely two: Facebook and GooglePlus.
The cognoscenti of social technologies would say they are quite different, but I have a problem here. I don't like Facebook, I've almost never used Facebook, and now I never will. I don't like the attitudes, behaviour or culture of Facebook Inc; I don't like the way people use Facebook; and I don't like being a "friend" of someone I had to work with because someone paid me to. So I'm told that Facebook is a powerful platform for sharing whilst you are at the conference: photo posting, knowledge sharing, location awareness… If you like Facebook, good on you. Go for it. You have lots of company.
Me I use GooglePlus, (or Google+ or g+), even if it is not as richly featured as Facebook ... yet. I really believe that Google - by corporate standards - "don't be evil". (I feel the same way about Pink). I don't have to call people my "friend", I have good control over who sees what, and there is room for a good discussion, unlike Twitter which is like boxing in a phone-booth. Nevertheless I'm still working out exactly how g+ sharing works, and I don't spend that much time there because it is a bit cumbersome on a smartphone - I need a full screen browser. And unfortunately the content is good. I say "unfortunately" because that means it is not the ten-second brain candy of Twitter - I have to give Google+ time, which I seldom have.
Nevertheless my preferred platform for sharing photos and learnings and new contacts from the 16th Annual ITSM Conference next year will be GooglePlus, even on my Droid. You can keep Facebook - and most of you will.